November was marked by our Aventure de l'Innovation #19, full remote. This event was presented by Joseph Barsey, a LallianSe Expert.
Remember, for the Aventure de l'Innovation #18 last October, we decided to replace the traditional homemade aperitif with a competition, thus offering a privileged interaction a posteriori.
This is how 5 participants were able to have a privileged meeting with Jean-Claude Ghislain (ex ANSM) on November 23rd, 2020.
---
Our milestones
November, 2 milestones!
Indeed, we celebrated the #5yearsofLallianSe. Our first five-year term told on our Blog, reviewing these past 5 years, and already seeing ourselves into the next 5 years, which will allow us to celebrate our decade. Lets meet soon!
And because every milestone counts, we are proud to announce that LallianSe target of 500 followers on its Linkedin page has been achieved! Thanks to everyone!
---
Hello December!
We told you last month that despite the strict health protocol, we had to close our coworking space, the LallianSe LAB, at Pitié-Salpêtrière, as of October 30th, 2020 for an indefinite period. We had to extend the closure until the end of December, but hope to reopen our doors on January 4th, 2021!
This closure also led us to postpone the deadline for submitting the Challenge Innovation #2 projects. Indeed, the call for applications being addressed to paramedical and technical personnel, this decision taken by mutual agreement with the Research & Innovation Departement of the Hospital seemed obvious to us due to the current health crisis.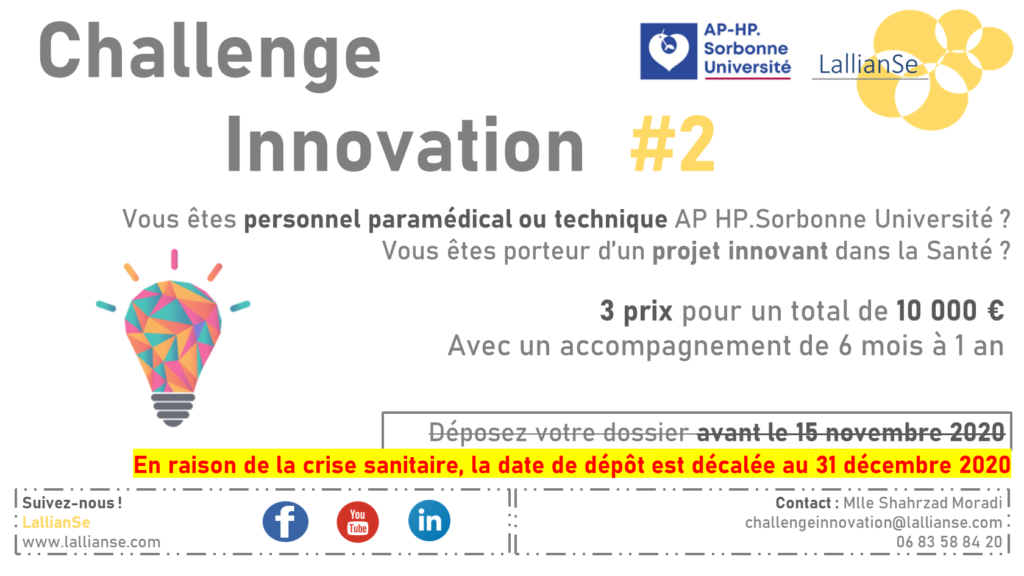 As you know, keeping the connection with our community is essential. So find the Aventure de l'Innovation #20 presented by Pr Laurence Verneuil & Dr Jordan Sibeoni. That conference will take place in digital, on December 17th, 2020, register asap : aventures@lallianselab.com