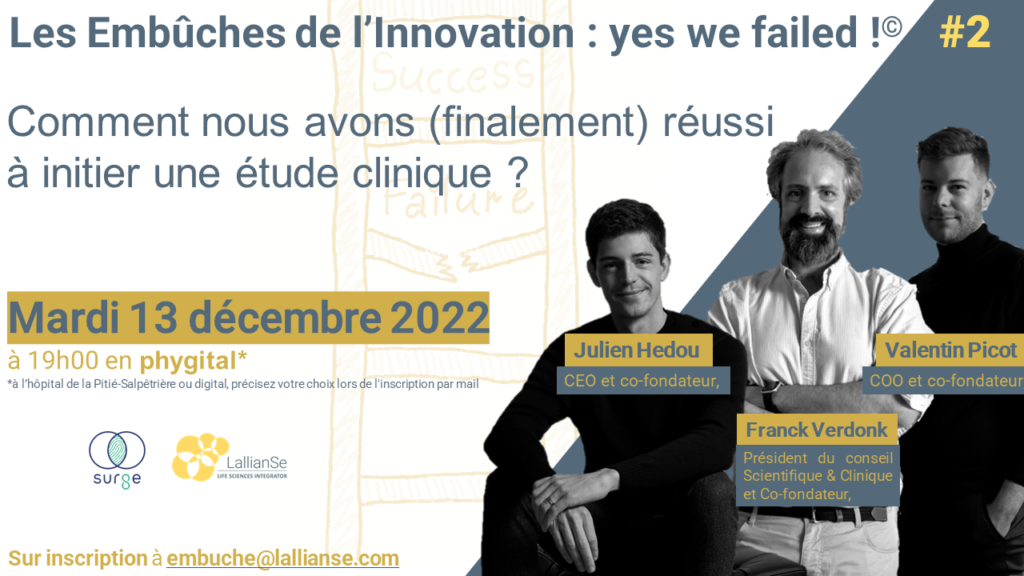 We are thrilled to have the Surge team beside us for the 2nd edition !
Meet us on Tuesday, December 13th 2022 at 7pm,
Either at our Pitié-Salpêtrière space or in digital
Event by registration only, at embuche@lallianse.com.
---
« SUCCESS CONSISTS OF GOING FROM FAILURE TO FAILURE WITHOUT LOSS OF ENTHUSIASM », Winston Churchill.
Innovation and failure are thus intrinsically linked. And the enthusiasm is essential of course!
What about the culture of failure and risk in the innovation ecosystem in France?
How to bounce back and keep your enthusiasm?
How to accept to go to new situations sometimes difficult?
It is around testimony, then exchange, simple, without taboos and in all benevolence, that we invite you to come and share your enthusiasm and the failures encountered, or to listen to our speakers, in order to highlight the paths to success.
Want to contribute? Contact us: embuche@lallianse.com
---
Watch the
#podcast
below: