---
Events
---
June started next to HealthTech For Care where LallianSe will introduce the HealthTech for Patients event event on Monday, June 7th, 2021. Indeed, Pascale Maisonneuve, our VP regulatory strategy, who will open the ball alongside Maryvonne Hiance , President of HealthTech For Care and Ioana-Maria Gligor, Head of Unit European Reference Networks and Digital Health at European Commission. The whole team was happy to be a stakeholder in this event, a real opportunity to approach the 'patients' theme from different perspectives.
---
We unveiled a new episod, the #7 of our chronicle, Do you speak LallianSe ?, with the participation of two members of the UroMems team, find them below :
---
Following various technical problems during the Giant European Health Tech week, we had to cut short the presentations of Jessica Walker (Atlanpole) and Cécile Jupin (Business France). But with a little imagination and seeing a nice synergy in this duo, we recorded them on a 'Pitch Party' format, see the result:
---
Hello July : FestiLAB #3 !
---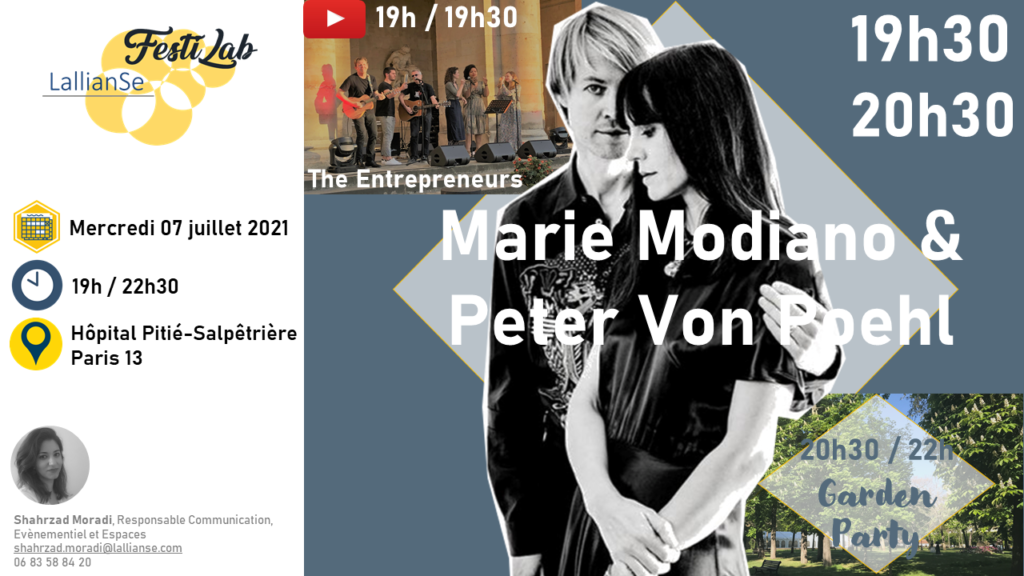 We can't end our article without going back on our key event, the one marking the beginning of summer and its recess: FestiLAB #3 !
A magical evening, Entrepreneurs on stage, an incredible duo formed by Marie Modiano et Peter Von Poehl, a warm audience. A moment suspended in time, followed by a garden party under a mild sky and little wonders to enjoy thanks to Meet My Mama. After 2 years of absence, and these 16 complicated months, what a pleasure to see you again! And we are already getting requests for the 4th edition, that's great because we already have some ideas so… stay tuned!
This is the time for us to thank you again:Marie Modiano et Peter Von Poehl, guests, supporters, providers, partners, volunteers and mostly our benefactors: Goodwin I Alira Health I HTI – Healthcare & Technology International I L3S Partnership I TechToMed and of course our music band, The Entrepreneurs Olivier Blin I Aude Nyadanu, PhD I Jonathan CHRIQUI I Pascale Jordan I Emmanuelle Deponge I Cesar Blin ! Find below our acknowledgment :
At last but not least, let's not forget our main goal surrounding the FestiLAB : the Challenge Innovation. Initiated byLallianSe since 2018 with the Groupe Hospitalo-Universitaire APHP.Sorbonne Université, the Challenge Innovation is the competition designed to distribute the donations collected during the FestiLAB.
We were proud to announce in February 2021 that the Challenge Innovation #2 Prize was awarded to the DISTRACTION CACTUS project, led by Ms. Cécile Combes, physiotherapist masseur at the CF Resource and Skills Center at Armand Trousseau Hospital.
The Challenge Innovation #2 Prize is accompanied by the entire endowment of € 10,000, as well as support by LallianSe equivalent to € 13,500.It had been given to her behind closed doors given the health situation, so it seemed important to us and we were particularly keen to let Cécile speak at the FestiLAB #3 and present her winning project, the 'pikidou'. Are you curious about it ? Listen to Cécile here :
---
We take these last lines to thank you, readers and members of the LallianSe community for your support throughout the past few months. The whole LallianSe team will take advantage of this summer break to replenish our energy… and it will take some because the start the school year promises a lot of nice surprises and highlights, we can't wait to share them with you! Have a nice summer!