---
SEPTEMBER
---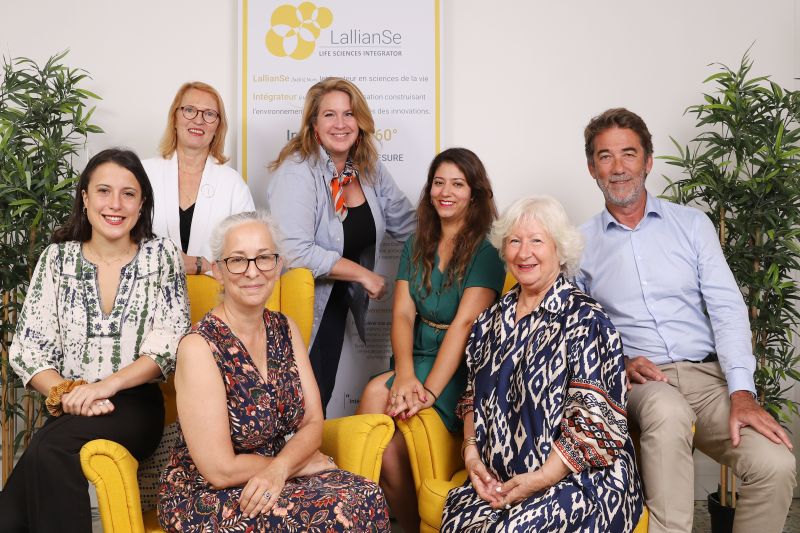 On your marks, get set…GO !
With the tone set at the beginning of the month, the LallianSe core-team met to share the progress of the coming year according to the objectives and priorities, in order to include a dedicated time for discussion and to develop our actions, our commitments and together build the foundations of better health.

As you can see, this new year will be (again!) full of adventures.
---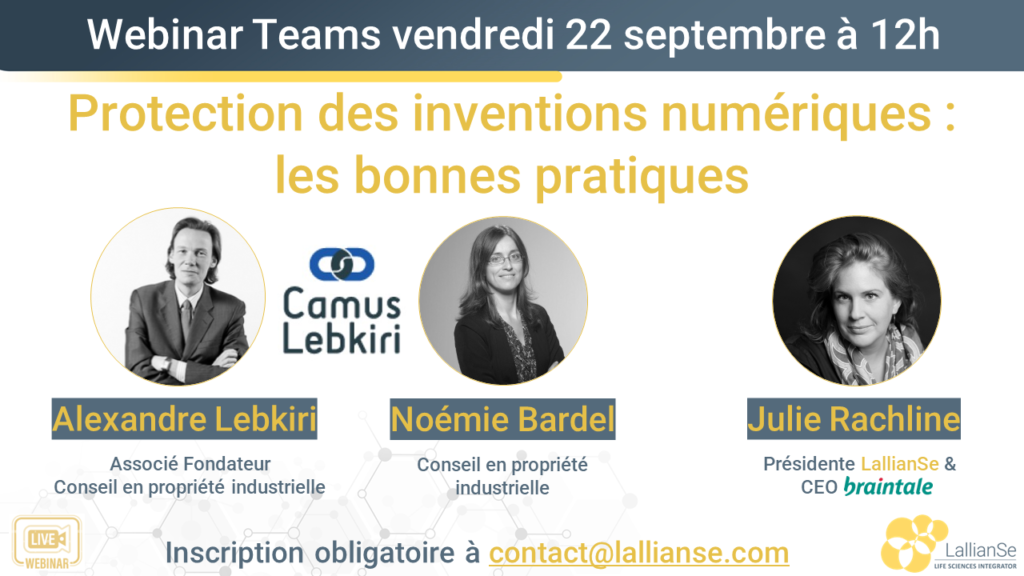 With a first event to share the questions we ask ourselves at LallianSe.
How can we protect and properly support the development of digital innovations? How can we optimize investments associated with digital tools through industrial property? How can you capitalize on these aspects to build solid investment theses? How to implement a suitable protection strategy? How to create value for the company?
To answer all these questions, we highlighted Alexandre Lebkiri and Noémie Bardel from Cabinet Camus-Lebkiri, Industrial Property Advice, alongside Julie Rachline with her BrainTale hat, to open discussions and perspectives on these key themes during a dedicated webinar. Find the replay here.
---
We then highlighted Anna Casal.
First requested for the communication strategy of our flagship initiative, BrainTale, it was with great enthusiasm that we were able to be challenged by Anna in writing the LallianSe story.

To share our vision and our different tailor-made courses, we wanted to assert our specificity while preserving our DNA. Anna Casal brought a unique perspective to our team and guided us to bring our story to life in an authentic and inspiring way. His expertise was instrumental in articulating our values, our passion and our commitment in a clear and convincing manner. Meet Anna, communications specialist in France and internationally (and much more!) in our 𝐃𝐨𝐘𝐨𝐮𝐒𝐩𝐞𝐚𝐤𝐋𝐚𝐥𝐥𝐢𝐚𝐧𝐒𝐞?
---
First stones laid with our collaborative actions and with our partners:
1. During APInnov 2023 we shared the announcement of the birth, during the Digital Care Agora we launched the operations of 𝗔𝗦𝗜𝗜𝗔, the 𝗔ssociation des 𝗦ociétés 𝗜nnovantes 𝗜ssues de l'𝗔P-HP, on the the impetus of Julie Rachline, general secretary and co-founder alongside Pierre Mozer and Nicolas Castoldi. Among our hospital immersion initiatives, 𝗔𝗦𝗜𝗜𝗔 is an association created by entrepreneurs and healthcare professionals, for entrepreneurs and healthcare professionals. Are you one of them? Join the virtuous circle of ASIIA's AP-HP spin-offs. Meet at APInnov 2024 to celebrate the first year of existence and the successes we have achieved together 🎉
2. 📢 For the 5th consecutive year, LallianSe was a partner of Pharma HealthTech: organized by Pharmaceutiques and TechToMed and now unmissable, this edition will focus on the theme "a model of interactions reinvented by digital technology". Beyond the friendship that binds us, our collaborations are plural and our ambitions come together, with an impetus given around a meeting between Franck LE MEUR and Julie Rachline a little over 10 years ago, already! Member of the LallianSe Expert network, patron of FestiLAB since the 1st edition and many other past and future collaborations, we were delighted to once again support Franck and more broadly the TechToMed teams
3. For the 2nd year we were a partner de MedFIT: European event dedicated to medtech and health in general. As a Health Integrator and equity story builder, beyond participating in the event, it is also an opportunity for future collaborations. Its taking place in Strasbourg only strengthened our proximity to the Grand Est Region, where we implemented BrainTale in 2021 and established links with the local ecosystem.
---
October
---
October turned to major issues in health innovation
Since a panel and a stage shared during the 5th Annual Biotechs & Pharma Conference in December 2022, our collaboration with Marie-Ange N'Zoutani and Sanofi came to fruition during our Fall Edition dedicated to Sanofi initiatives. With the ambition to create bridges between startups and the pharmaceutical industry, and to support a dynamic ecosystem that promotes exchanges & innovation, we welcomed the team:
🗣️Cédric Barriere, Senior Director, I&I External Innovation
🗣️Nizar El-Murr, Associate Director, Rare & Neurological Disorders Innovation
🗣️Etienne Guillot, Europe Ecosystem & Scientific Relations Lead
🗣️Matthieu Merlin, Head of Business Development General Medicines
Thank you to everyone and to Marie-Ange N'Zoutani for being the conductor.
---
Like last year, on the occasion of Journéedelaudition2023 organized yesterday by SFORLand the Fondation Pour l'Audition, Julie Rachline CEO co-organized and moderated in tandem with Bernard FRAYSSE the round table dedicated to financing and evaluation innovators with a panel of excellence:
–Catherine Boule, Digital health investor, Karista
–Elsa CREAC'H, mission manager, Third-party health experimentation sites, Agence du Numérique en Santé
-Armelle Graciet, Industrial Affairs Department, SNITEM
-Simon Renner, Digital health mission project manager, Haute Autorité de Santé
Julie Rachline also participated in the Jury for Innovations in Audiology and Otology. This Jury awarded:
🥇​For the 1st prize SFORL Medical Innovation Audition 2023, OTOtwin, developed by Cécile Parietti-Winkler, ENT surgeon at CHRU de Nancy; ​
💝​For the Coup de Cœur prize, to the application in the NoisyWorld test phase, developed by Arnaud Norena, research director at CNRS – Centre national de la recherche scientifique.
---
And speaking of winners, 1 year (and 10 days) later only after the start of our support, Sandrine, winner of Challenge Innovation #3 had the opportunity to present her digital tool developed over 11 months with Romain Gombert: a digital escape game retracing the different stages of transition from pediatric care to adult care, during the Congress of the French Society of Public Health (SFSP). Some will call it a challenge, we prefer to call it a challenge… …innovation! Our hospital immersion in the heart of the Pitié-Salpêtrière hospital has allowed us to initiate a unique innovation approach in France.
---
In the deployment of its hospital immersion initiatives and LallianSeEducation, the University Diploma of Sorbonne, DU GBM, whose management is ensured by Julie Rachline and whose organization is partly operated by LallianSe, we are proud to announce a new synergy made by LallianSe: a cross partnership between the DU GBM of Sorbonne Université, and the Bioentrepreneurs Launchpad program launched by the Imagine Institute – X-HEC Entrepreneurs & Université Paris Cité, Université Paris-Saclay & ESCP Business School.With very complementary approaches, one for acculturation to valorization and the other for the creation of startups, we decided to combine these training courses in order to offer 2 tailor-made courses. Contact us at du.gbm@lallianse.com now!
---
Still in this same training process, Julie Rachline was invited by Jean-Luc Lenormandat the front of… the screen: sharing the main lines, challenges and perspectives of the creation of innovative companies in Health, valorization, entrepreneurship and of course 'investment. Sharing our experiences by supporting the training of tomorrow's professionals is the approach we favor with LallianSeEducation, in addition to our other activities, to build the environment favorable to the success of innovations.
---
And the environment is also the team. Recently arrived as a startup & innovation manager, Eva Rossiensky is above all passionate about entrepreneurship. It is a mutual trust that we built throughout his internship in the spring, and it is with great enthusiasm that we continue the adventure together! Meet Eva, Startup & Innovation Manager (and much more!) in our 𝐃𝐨𝐘𝐨𝐮𝐒𝐩𝐞𝐚𝐤𝐋𝐚𝐥𝐥𝐢𝐚𝐧𝐒𝐞?
---
Finally, to create this environment, LallianSe supports its clients at all stages of their development… today more than ever, we are proud to support our flagship initiative, BrainTale, in a significant moment: need more spaces and offices adapted to the growth of the workforce.
Like BrainTale, are you looking for a workplace where innovation rhymes with collaboration? We have 5️⃣​free open space offices in our hospital coworking, and (at least) 5️⃣​good reasons to join us:
1️⃣ Be part of a #community with privileged access to our #network of entrepreneurs, healthcare professionals, partners and experts, thus creating opportunities for collaboration;
2️⃣​ Work in an inspiring environment designed to foster creativity;
3️⃣​ Challenge your innovation to directly involved users; ​
4️⃣​ Access exclusive and tailor-made training and event opportunities;
5️⃣​ Benefit from (very) advantageous prices on our different courses and services (support, training, events)
Are you interested? Contact us at contact@lallianse.com