We have the pleasure to officially launch our Challenge Innovation #3!
The Challenge Innovation is the competition initiated by LallianSe since 2018 with APHP.Sorbonne University to distribute the profits generated during the previous FestiLAB, an annual charity event. Made possible by the support of privileged partners which brings together around an artistic project, an acoustic rock band and a private event for the actors of innovation (entrepreneurs, hospitals, researchers, investors, recruiters, developers, service providers, etc.). The Challenge Innovation is the competition designed to distribute the donations collected during FestiLAB.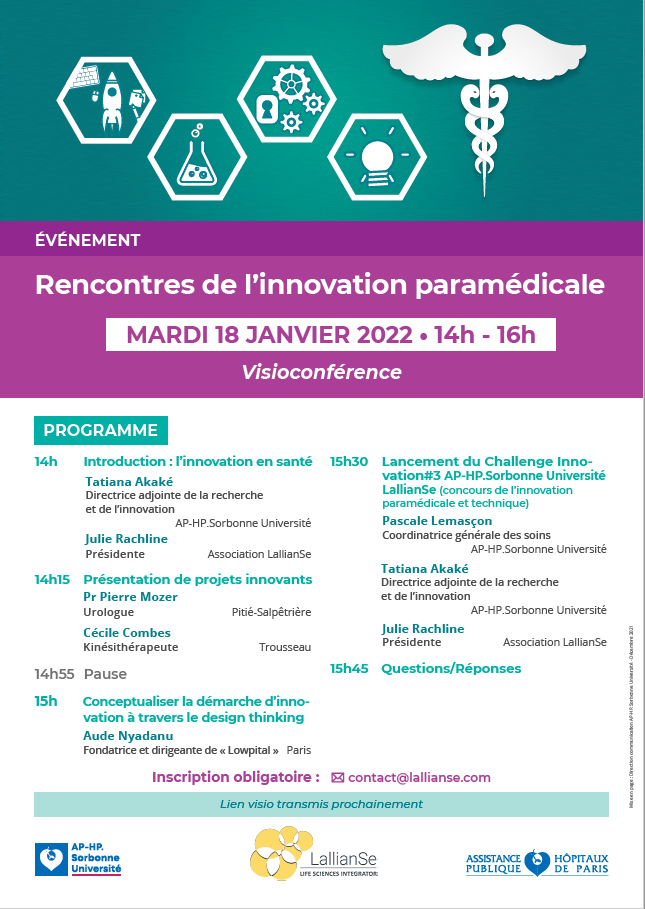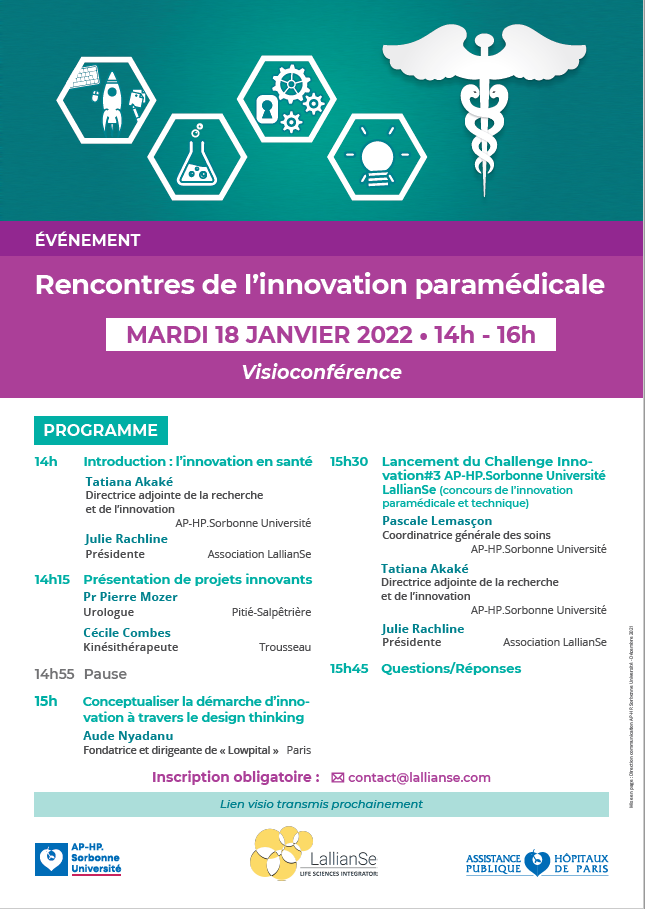 In order to launch our call for projects, on Tuesday January 18, 2022, we organized a Rencontre de l'Innovation, a conference intended for the paramedical and technical staff of the GH APHP.Sorbonne University.
We'd like to thank our speakers and partners : Tatiana Akake (Deputy Director at the Research & Innovation Department at the GH APHP. Sorbonne Université), Pierre Mozer (Urologist et co-founder of UroMems), Cécile Combes (Physiotherapist and winner of the Challenge Innovation #2), Aude Nyadanu (serial entrepreneurs, singer of our rock band The Entrepreneurs at the FestiLAB, founder of Lowpital and much more), Patrick Delamare (General Care Coordinator of the GH APHP.Sorbonne Université) and at alst Julie Rachline (CEO LallianSe). Find their experiences and interventions in the replay below:
For this 3rd edition we have decided to make the make the call for projects process more complete and supportive. Here is the process, the conditions & modalities, as well as the calendar to apply.
You have an idea, a project and you meet the mandatory conditions to apply? Fill out our online questionnaire and get started on the adventure!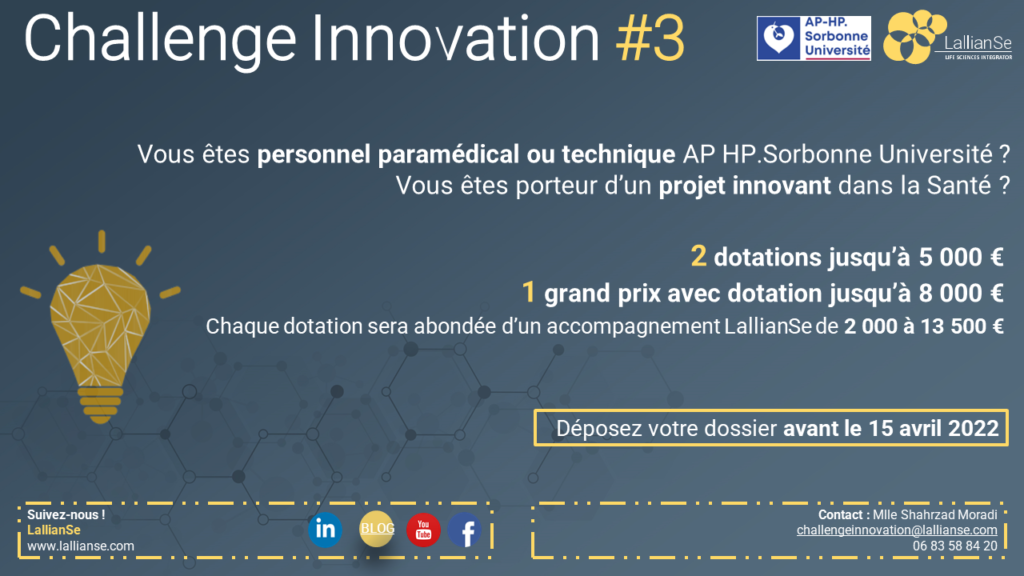 ---
The Challenge Innovation also innovates! As you know, this year, 3 'Design Thinking' workshops accompany the paramedical teams: a variety of projects that illustrate the contribution of collective intelligence methods and the user approach, deployed by the teams of Lowpital, Aude and Maylis. It is also the consistency to involve Aude, singer of Les Entrepreneurs, even more in the adventure! Here are the first images of the launch of the workshops which take place with great enthusiasm from the participants:
---
Remember, as part of our collaboration with the AP-HP, Public Assistance – Hospitals of Paris Sorbonne University for the 3rd #ChallengeInnovation for #paramedical and #medicotechnical staff of the GH, we had decided to innovate! This year, 3 'Design Thinking' workshops accompanied the paramedical teams by the teams of Lowpital, Aude Nyadanu and Maylis Callier to help them prepare the call for projects.

What did these workshops bring them? How did that help them? Hear their stories in the video below: